My chidren suffer from "half-assed-ness", which I, having been raised by a civil engineer, find infuriating. My dad's view is black is black, white is white, and a job worth doing is worth doing right the first time. Why do it more than once if you don't have to? My children take after their father, God bless him, who, if it didn't involve spreadsheets, was the most half assed person on the planet. He once put up a big toy (now replaced thank Hera) that did not have a plumb line on it. It looked like something that belonged in the World of Seuss! The children looked like drunken sailors everytime they got on it. I told FB to vacuum the floor, specifically mentioning how to vacuum and that he should pick items up off the floor instead of mowing them over. I heard the vacuum sound as if there was something stuck in the roller, heard FB turn it off, turn it back on, turn it off, turn it back on..."WHAT are you doing??" "There is something stuck in here." "Did you vacuum something up that you shouldn't have?" "No." I took the front off the vacuum, unlocked the belt and. lo and behold, wrapped around the belt spindle was a dress sock. A once brand-new, never been worn, and now completely useless dress sock.
SoS this morning came downstairs ready for school dressed in shorts. "Dude, 50 degrees equals no more shorts at school, go put on pants." He comes back downstairs, in pants, and says, "Mom, these are the pants with the zipper that fell off." Then why are you wearing them??
While I'm helping SoS with his homework I tell FB to go do his 30 minutes of reading. 10 minutes later he comes downstairs to ask if he can go on the computer. "You didn't read for 30 minutes; get back up there." I go upstairs about 5 minutes later and his radio is on, lights are off, and he is laying on the bed singing to himself. Well, okay, now you have 30 minutes of reading and no computer; howz them apples?
I'm almost sure they are in cahoots to drive me out of my ever lovin' mind.
Nursing Humor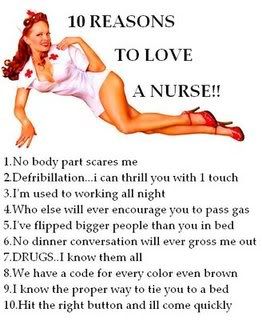 I don't have any good stories these days because I am working with a resident and I'm making her do everything while I supervise. Hey, it's like a government job; only without the near impossibility of termination. Anyway, so I'm stealing something from a friend of mine. A patient came in the other day for a c-section and she had a tattoo on her abdomen, above her mons that said, "Kumonme." Break it down to three words. Then she had "69" and "Bang Me Daddy" on her back. We decided that was for her baby daddy if he got confused and needed directions he could just flip her back and forth.